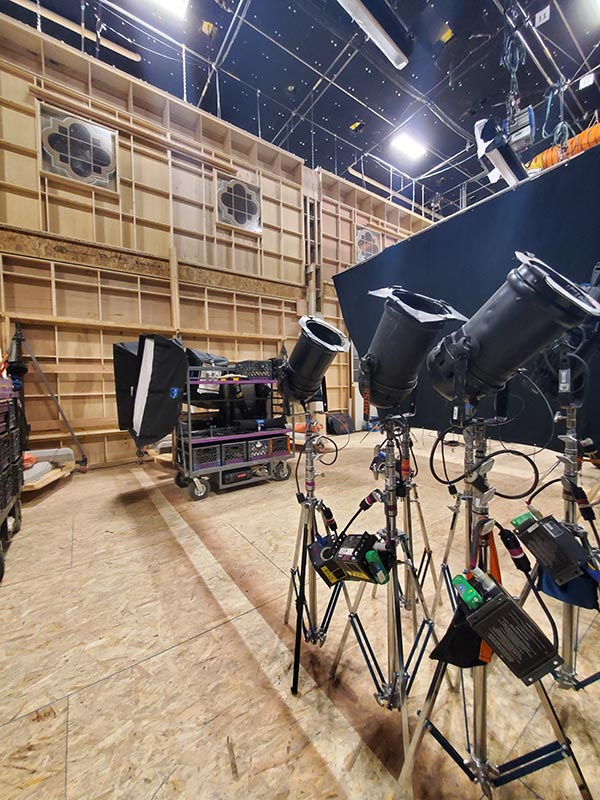 Background ("extra") work can be fun and exciting and a great way for aspiring actors, the general public, retirees, etc. to get hands-on experience and directly observe movie magic on a daily basis.
HOW CAN I BECOME A BACKGROUND ACTOR/"EXTRA"? 
Can you be available all day – for up to 10 -14 hours at a time?
Are you prompt and professional?
Do you have reliable transportation?
Are you willing to travel to remote locations on occasion?
Do you listen and take direction well?
Does your schedule allow you to be flexible?
If you've answered YES, continue!
Perform an online search for New Mexico Background or Extras Casting Directors. Most companies will allow you to register online. You can also view listings on the NMFO's website in their Industry Directory
HOW LONG IS A TYPICAL WORKDAY?
A typical workday is 10 to 14 hours.  Be prepared to sit and wait for extended periods of time, so bring a book or another quiet pastime.
WHAT IS THE AVERAGE PAY?
The pay rate is usually minimum wage.
WHAT IF I CAN ONLY WORK HALF A DAY? 
Unfortunately, that's not an option. You must be available for as long as they need you. Even if they tell you it will be an 8-hour day, plan on 12.
WHERE CAN I FIND BACKGROUND CASTING CALLS?
If you're registered with a Background Casting Director, they will contact you directly. You can also view the NMFO's Casting Calls
Most local Background Casting Directors post casting calls through their websites or Facebook pages.
DOES IS COST MONEY TO BE LISTED WITH A BACKGROUND CASTING COMPANY? 
Absolutely not.
DO I NEED A PROFESSIONAL HEADSHOT AND RESUME TO GET STARTED? 
Nope. However, you'll need to have two clear digital photos of your face and body (file size: 50k – 300k max, and have them labeled with your full name).  Know your measurements, even your hat size.
DO I NEED AN AGENT TO DO BACKGROUND WORK?
No. However, if you're serious about pursuing a career as an actor, getting a Talent Agent is the natural progression for securing auditions. Check out the Talent Agency listings from the New Mexico State Film Office
WHAT IS THE DIFFERENCE BETWEEN A TALENT AGENT AND A CASTING DIRECTOR?
A Casting Director is hired by the production company and is responsible for casting the actors. Talent Agents represent the actors.  The Casting Directors use the Talent Agents to find the actors.
There are two types of Casting Directors:
Casting Directors cast speaking roles, called "principals."
Background (Extra) Casting Directors cast background talent, which are non-speaking roles.
TIPS FOR FIRST-TIMERS ON SET:
Research basic film terminology and set etiquette. Know film lingo, such as "picture's up" and "back to one."
Be on time. Early, in fact. Never, ever be late. In the film business, early means you're on time. Being on time means you're late. Each minute that's wasted can cost the production thousands of dollars.
Turn off or silence your cell phone.
Never take pictures.
Do not post any information about the project on any social media sites. In many cases, you've signed an NDA and this could be a major violation that could result in legal action.
Avoid looking directly into the camera and directly at the "stars." Never engage them in conversation or ask for their autograph.
Be respectful and courteous. Uphold New Mexico's "film friendly" reputation.
Advice on avoiding modeling and talent scams from the Federal Trade Commission
The Crew Door Page
If you're new to the industry and want to jump in headfirst, your first position will most likely be a Production Assistant (P.A.).  A P.A. is an entry-level position where you'll be expected to get coffee, make copies, run errands, and be prepared to do pretty much anything asked of you.
You'll need to be resourceful, prompt, reliable, humble, have a strong work ethic and the ability to work long hours and "take direction" well.
Before you start out, you should learn the basic terminology of the film industry. Take a local course*, research or volunteer on a local student film to gain this knowledge.  There aren't any links here because this is your first challenge - to be resourceful and find them.
Create a one-page resume. Be sure it contains all of your contact information, any film knowledge, training or experience, save it as a PDF and label it with your name and position. Example: Jane Smith_P.A.
Now convince someone to hire you. Use the New Mexico State Film Office's Industry Directory (see button below) and send your resume to the local UPMs, Line Producers and crew members who would hire you – the department heads of the various departments that make up a film crew. In many cases, department heads are willing to give enthusiastic rookies a chance.
Research the hierarchy or "chain of command" of the film industry to determine who your "boss" would be. For example, if you're interested in working in the Locations Department, send your resume to the Location Managers and Location Scouts.  Have a flair for Costumes? Send to the Costume Designers and Wardrobe Supervisors. Stellar office skills? Send to the Production Office Coordinators (POCs) and the Assistant Production Office Coordinators (APOCs).
Many crew members start their careers by working on student films, shorts, and small independent productions.  You can find job postings at the local film schools or on the New Mexico Film Office Bulletin Board under Crew Calls
IATSE Local 480's Overflow List
When someone gives you your first opportunity, make the most of it.  Show up early (never just on time or late), be cheerful and respectful, do what is asked of you, and never be afraid to ask questions.  The reputation of a good P.A. gets around and motivated P.A.s move up the ranks quickly.